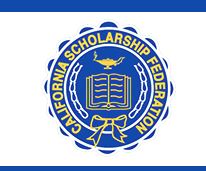 ---
---
What Is CSF?
Chula Vista High School's CSF (California Scholarship Federation) chapter was founded in 1947. It is the school's oldest honors society and is a part of the state-wide CSF organization. Its purpose is to recognize students who have excelled academically.
How Does It Work?
The goal is to earn "Life Membership" in CSF. To do so, students must earn high marks in at least 4 semesters of high school. One of those semesters must be in senior year. The benefits of "Life Membership" include recognition at a banquet your senior year, a white gown, CSF pin, and receiving additional recognition for your achievements while sitting in front during graduation. In addition, a $5 deposit is paid to the ASB each semester you apply.
When Do I Apply?
At the end of every semester of high school, students receive final grades. Those grades are used when students apply for CSF at the beginning of the following semester.
Application Cycle
July/August Using Spring final grades
Jan/February Using Fall final grades
How Do I Qualify?
Once the student has their grades, they must follow these guidelines to determine if they qualify:
Did you have any D's or F's in scholarship or citizenship for any course?

If YES, you do not qualify this semester, do not submit an application. If NO, continue forward.

To qualify each semester, you must earn a certain number of "points" determined by course and grade.

A's are worth 3pts
B's are worth 1 pt
C's are worth 0 pts

If you are in an Honors or AP course, you are allowed to add a bonus of 1pt to a grade of A or B. You can do this for 2 courses only. So if you earn an A in AP Calculus, you would put 4pts. If you earn a C, you cannot add a bonus point.
YOU NEED 10pts total to qualify. But not all courses are treated equally. Most, if not all, points should come from core (non elective) courses. Ideally, all points would come from core classes. But if that is not possible, then some other courses can be used.
All interested students should join CSF's google classroom for updates, reminders, and when/where to turn in the application.