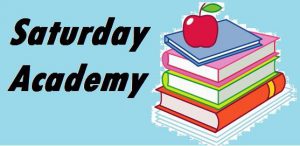 Sign up for 1 on 1 tutoring during our Saturday Academies. We have a group of amazing teachers available to work one on one with you.
Tutorías individuales durante nuestras Academias de los sábados. Tenemos un grupo de maestros increíbles disponibles para trabajar uno a uno con usted.
Hello Spartans!
The Student Center offers tutoring or support to any students needing assistance or having questions. We will assist you with homework assignments in all subjects.
How: A teacher will call or email you to assist you with any questions you may have or provide guidance to you. Once the teacher calls or emails you, the teacher will send you a video conferencing link to guide you virtually if necessary.
When: Saturday's from 9am-12pm
How Long: You can schedule a time slot that works best for you. The teacher will call during that time.
Please fill out the form by clicking the link below to request tutoring support from a teacher.
If you have any immediate questions about tutoring, please email david.lopez@sweetwaterschools.org.
DEADLINE TO SUBMIT A TICKET WILL BE FRIDAY MORNINGS AT 9 AM TO RECEIVE SUPPORT THE FOLLOWING DAY. IF ENTRIES ARE RECEIVED AFTER 9 AM ON FRIDAY, STUDENT WILL BE SCHEDULED FOR THE FOLLOWING WEEK.
*************************************************************************************
El Centro de Estudiantes ofrece tutoría o apoyo a cualquier estudiante que necesite ayuda o tenga preguntas. Lo ayudaremos con las asignaciones de tareas en todas las materias.
Cómo: Un maestro lo llamará por teléfono para ayudarlo con cualquier pregunta que pueda tener o brindarle orientación. Una vez que el maestro lo llame, el maestro le enviará un enlace de videoconferencia para guiarlo virtualmente si es necesario.
Cuándo: sábados de 9 a.m. a 12 p.m.
Cuánto tiempo: puede programar un intervalo de tiempo que funcione mejor para usted. El maestro llamará durante ese tiempo.
Complete el formulario a continuación para solicitar apoyo de tutoría de un maestro.
Si tiene alguna pregunta inmediata sobre la tutoría, envíe un correo electrónico david.lopez@sweetwaterschools.org.
FECHA LÍMITE PARA ENVIAR UN BOLETO SERÁ LOS VIERNES A LAS 9 AM PARA RECIBIR APOYO AL DIA SIGUIENTE. SI LAS INSCRIPCIONES SE RECIBEN DESPUÉS DE LAS 9 AM, EL ESTUDIANTE SERÁ PROGRAMADO PARA LA SEMANA SIGUIENTE.